Kitchens Remodeling in Northern Utah, UT
Create the Kitchen of Your Dreams
What does your ideal kitchen look like? You deserve a kitchen you love, and a full remodel is the best way to get the function and beauty you desire. Regardless of your style and needs, Ideal Kitchen & Bath can help you create a stunning kitchen remodel that will impress all your friends and family. We have years of combined experience, and we're proud to help Northern Utah homeowners get one step closer to the home of their dreams. Find out how our kitchen remodeling services can work for you.
Three Easy Steps to a Brand-New Kitchen
As you begin work on your kitchen project, you'll likely encounter some bumps in the road. Many homeowners aren't aware of all the planning and minor details that go into designing the perfect kitchen. Fortunately, the team at Ideal Kitchen & Bath is here to make the remodeling process as smooth and straightforward as possible. Our kitchen remodeling services can be summed up in these three easy steps:
Measure: First things first—you'll need to measure your kitchen space. If you're working within the confines of your current layout, you must know just how much room you must work with. Our team will make sure to take all the necessary measurements at our first visit, so we don't run into any problems during installation.
Plan: Our team will sit down with you to discuss your needs and design preferences. Once we have an idea of your vision, we'll get to work creating a plan tailored to you. Never fear—we won't start any installation or construction work until you've viewed the plan and approved the cost estimate!
Build: After all the details are in order, we'll get to work making your dream kitchen design a reality. Our seasoned team can take care of everything, including creating and installing custom cabinets. This final step may take anywhere from two days to a week, depending on the scope of your remodeling project.
MEASURE
Measure and layout the best kitchen to both fit your space as well as your design goals. At this visit we will get measurements and capture any other important info.
PLAN
We get you an honest estimate for your project. Then in a few days you will also get full design drawing.
BUILD
Deliver and install cabinets. This last step can take 2 – 3 day or up to 6 depending on the intensity of the project.
What to Consider During Your Remodel
If you've remodeled your home before, you know just how much thought goes into designing the final product. For those who are new to home improvement, the process can seem daunting and never-ending. The team at Ideal Kitchen & Bath is here to make sure you cover all your bases as you finalize the design for your new kitchen. Below, you'll find a checklist of a few things to consider during the remodeling process:
Size: We can't overstate the importance of measuring! Knowing how much space you have will influence the size and shape of fixtures and appliances.
Storage Space: How much kitchen storage will you need? If you have lots of pots and pans, you may want to devote more space to cabinets. However, those who don't do a lot of cooking may want to prioritize other design elements.
Countertops: What kind of countertop strikes your fancy? Perhaps you love the classic look of granite, or maybe you prefer the durability of quartz. We can help you choose the best material for your lifestyle.
Lighting: Will your kitchen have plenty of natural light? If not, what kinds of lighting fixtures will you need to make up for its lack? Choose from an array of lighting fixtures, from recessed lighting to elegant lamps.
Appliances: Be sure to consider how your appliances will fit into your design. Whether you're buying new or using what you have, they're a crucial part of any kitchen remodel.
Explore Your Kitchen Design Options
No start-to-finish kitchen remodel is complete without new cabinets. When it comes to kitchen cabinets, there's no better source than Ideal Kitchen & Bath. We provide our clients with beautiful custom cabinets as well as stock cabinets. Whatever meets your kitchen needs, rest assured we can accommodate you. Browse your options for stunning kitchen cabinets:
Stock Cabinets: At Ideal Kitchen & Bath, "stock" doesn't have to mean boring! We have a slew of stock lines available, and we'll work to meet your aesthetic needs.
Semi-Custom: Perhaps you like what you see in our line of stock cabinets, but you'd like to customize something to your liking. Our team can handle semi-custom cabinets as well!
Custom Cabinets: When you know exactly what you want in terms of color, size, and frame, the custom is your best bet. Our expert design team can create the cabinets you envision.
Get Inspiration from Our Past Projects
Sometimes, you need a little inspiration to get started on a kitchen renovation project. Fortunately, you can look at some of our latest kitchen remodels from the comfort of your own home. Explore the clean white lines of the Stayner Kitchen, or see what a pop of color can do in the Bisel Kitchen. No matter your style or storage needs, our team can give you a fantastic kitchen you'll love cooking and entertaining in. Feel free to use our past projects for brainstorming or start the conversation with our design team today.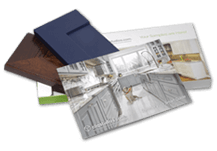 Explore our Kitchen Options
Everything form custom build to suite or budget friendly design options and everything between.
Reach Out to Us Today
When it's time to give your kitchen a makeover, trust the team at Ideal Kitchen & Bath. We can take care of all the hard work and make sure no detail gets forgotten. Our team understands that no two homeowners have quite the same style, so we're dedicated to tailoring your kitchen design to your exact preferences. Residents of Northern Utah and the surrounding communities have been enjoying our services for years, and we're excited to help you as well! Contact us today.